DO I HAVE RADON IN MY WATER?
If your home uses well water, there is a very good chance that you have radon in your drinking water. Approximately half of the drinking water in the United States comes from groundwater that is tapped by wells. While underground, the water often moves through rock containing natural uranium that releases radon into the water. Because of this, Water from wells normally has much higher concentrations of radon compared to surface water, like lakes and streams. The average concentration of radon in public water supplies derived from groundwater sources is about 20 becquerel per liter (540 pCi). However, some wells have been identified with high concentrations, up to 400 times the average.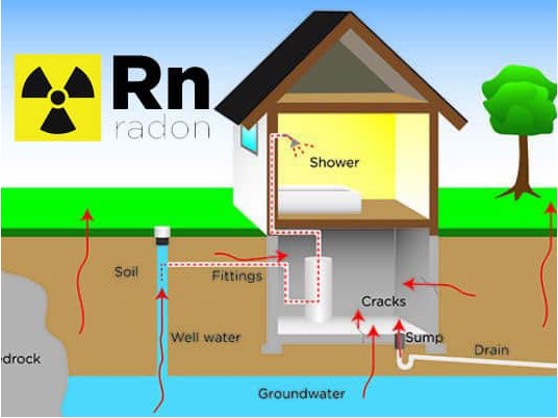 WHAT IS RADON ANYWAY?
Radon is a naturally occurring gas that you can't see, taste, or smell. Radioactive elements normally present in soil, rock, and water breakdown, to produce radon gas. Although concentrations vary, radon gas is present in all 50 states.
HOW CAN RADON GAS GET INTO MY HOME?
As a gas, radon can diffuse out of rocks and soil. Radon gas enters homes most commonly through:
cracks in foundations,
openings around sump pumps, drains, and pipe penetrations
through concrete slabs, and foundation walls,
in some cases, from well water*.
*Radon in well water is released into the air when water is used for showering, laundry, and other household activities.
DOES RADON IN MY WATER POSE A THREAT TO MY HEALTH?
Most of the health risk resulting from radon in a home's water supply is due to inhalation of radon that has been released from the water into the air, rather than from drinking the water. (The risk from radon is higher among smokers because the combination of radon and smoke has a greater damaging effect than the sum of the individual risks.) Furthermore, the increased level of indoor radon that is caused by using water in the home is generally small compared with the level of indoor radon that originated in the soil beneath the home.
Researchers have estimated that 1 pCi/L of airborne radon will result from the normal use of a water supply containing 10,000 pCi/L. The amount of radon gas released from the water will depend on several factors:
The radon level in the water;
The amount of water used;
How the water is used, e.g. showering & dishwashing (high transfer) vs. running water in a sink (low transfer); and
The water and air temperatures (as the temperature of the water increases, radon transfer increases).
HOW BAD IS MY PROBLEM?
The only way to know if your well water has radon is to test it. Our radon in water test kits are the best way to get accurate results fast. Although there are no federal limits on radon in household water, there are recommendations. The US EPA and various states have recommended drinking water standards for radon in water ranging from 300 to 10,000 pCi/L but no standard currently exists. Contact the EPA or state environmental agency to determine recommended levels in your area.
ORDER A RADON IN WATER TEST KIT
Read more about radon gas – Radon Links